Sept 15, 2022
A new partnership between Construction Distribution and Supply Co. Inc. and Thymox SF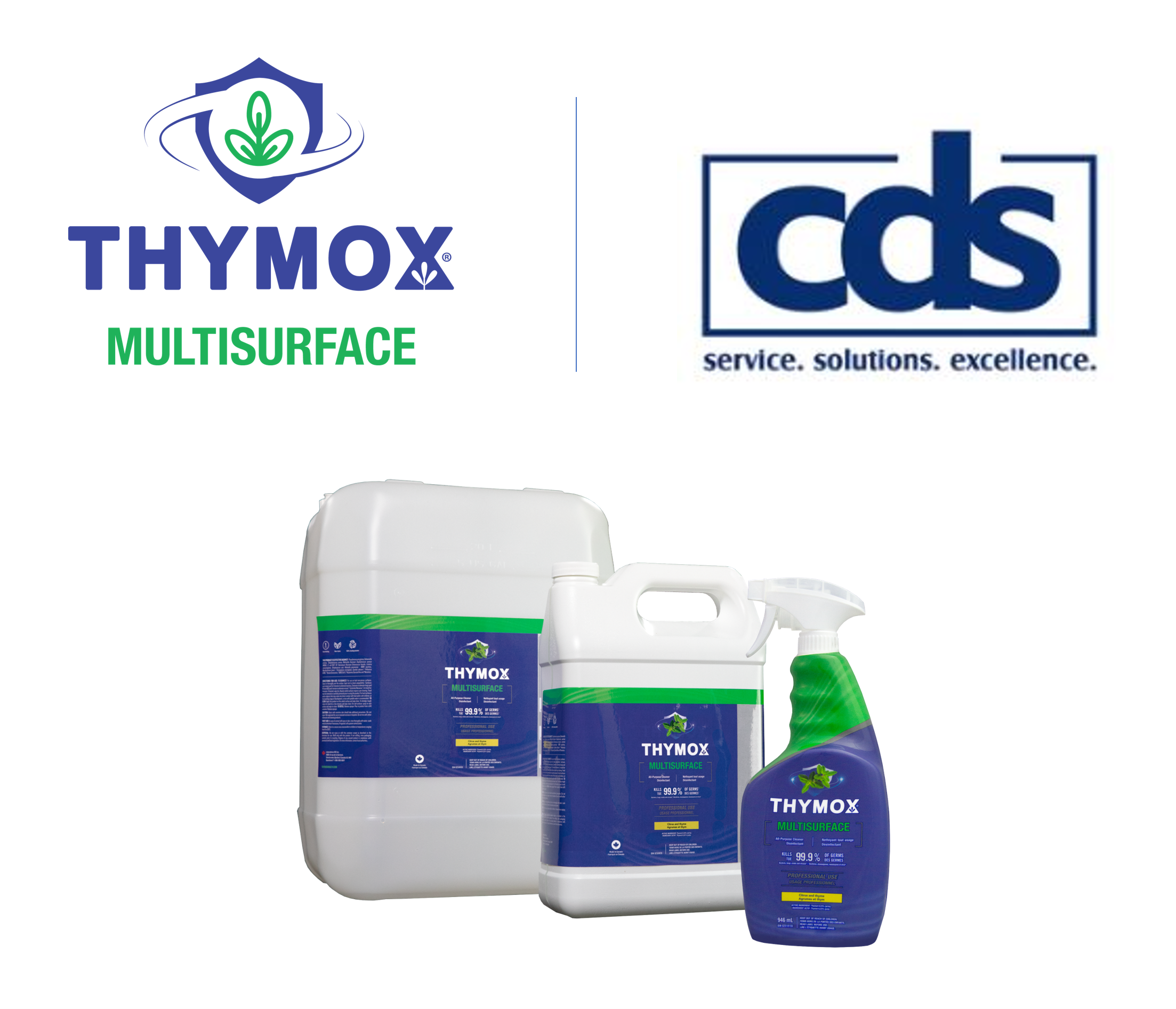 A new partnership between Construction Distribution and Supply Co. Inc. (CDS) and Thymox SF, a subsidiary of Laboratoire M2 Inc., the company behind the creation of the THYMOX® brand and technology.
Marketed under the name THYMOX® MultiSurface, these new disinfectant products, based on a botanical active ingredient, can be sourced within Canada through CDS, effective immediately.
A pioneer in the manufacturing and marketing of ecological disinfectant products for the industrial and institutional market, Thymox SF has developed this new multi-purpose disinfectant to offer professionals an effective alternative to traditional chemicals.
"Our alliance with CDS will allow us to reach a greater number of professionals in the construction, maintenance, and janitorial sectors. CDS will enable us to pursue commercial growth in Canada " shared Serge Auray, President and Founder of Laboratoire M2.
Thymox botanical active ingredient products are among the only ones officially authorized by Health Canada to fight the virus causing COVID-19; laboratory tests confirm that Thymox disinfectant solutions eliminate this virus in less than a minute on hard surfaces. 
"CDS is very excited to have partnered with Thymox to serve Canadians with one of the most effective and unique disinfectants in the cleaning industry. Furthermore, the fact that Thymox is also environmentally friendly aligns with our mission at CDS " mentionned Gino A. DiGioacchino, President & CEO of CDS.
The technology behind Thymox
Thymox® technology is based on the effectiveness of the antimicrobial properties of thymol, an active ingredient of botanical origin. It is made with more than 98% renewable ingredients, is biodegradable, non-irritating and low toxic. In addition to their excellent disinfectant properties, the users of these ready-to-use products greatly appreciate their very low toxicity and cleaning power, and this, in a single step, without rinsing.
About Thymox SF
Thymox SF is a subsidiary of Laboratoire M2 Inc., a company based in Sherbrooke, Quebec, Canada. Laboratoire M2 has an excellent reputation for innovation and expertise in environmentally friendly and sustainable disinfection technology and biosecurity products, under the THYMOX® brand. The company markets a range of biodegradable, high-performance and safe antimicrobial products based on its technology platform in three business units. Animal health products, which include THYMOX HOOF® and THYMOX Footbath®, are sold around the world and are used to control bacteria that cause digital dermatitis (DD) in cattle. In the field of crop protection, Laboratoire M2 products are sold in the United States and Canada under the THYMOX Control® and THYMOX Gro® brands. Professional and retail disinfectants using THYMOX® technology are used in surface disinfection and distributed under various national and international agreements.
About CDS
Construction Distribution & Supply Co. Inc. (CDS) has been serving the construction industry since 1968 distributing construction, restoration, waterproofing, glazing, air barrier, specialty roofing and maintenance products to the various professional contractors and associated trades. CDS is a solution focused distributor that has a vast product offering. CDS currently services customers with regional sales reps and nine warehouse locations; seven in Ontario, Canada and two in New York, USA.
Back to news