15 août 2022
For an effective maintenance and cleaning of schools and daycares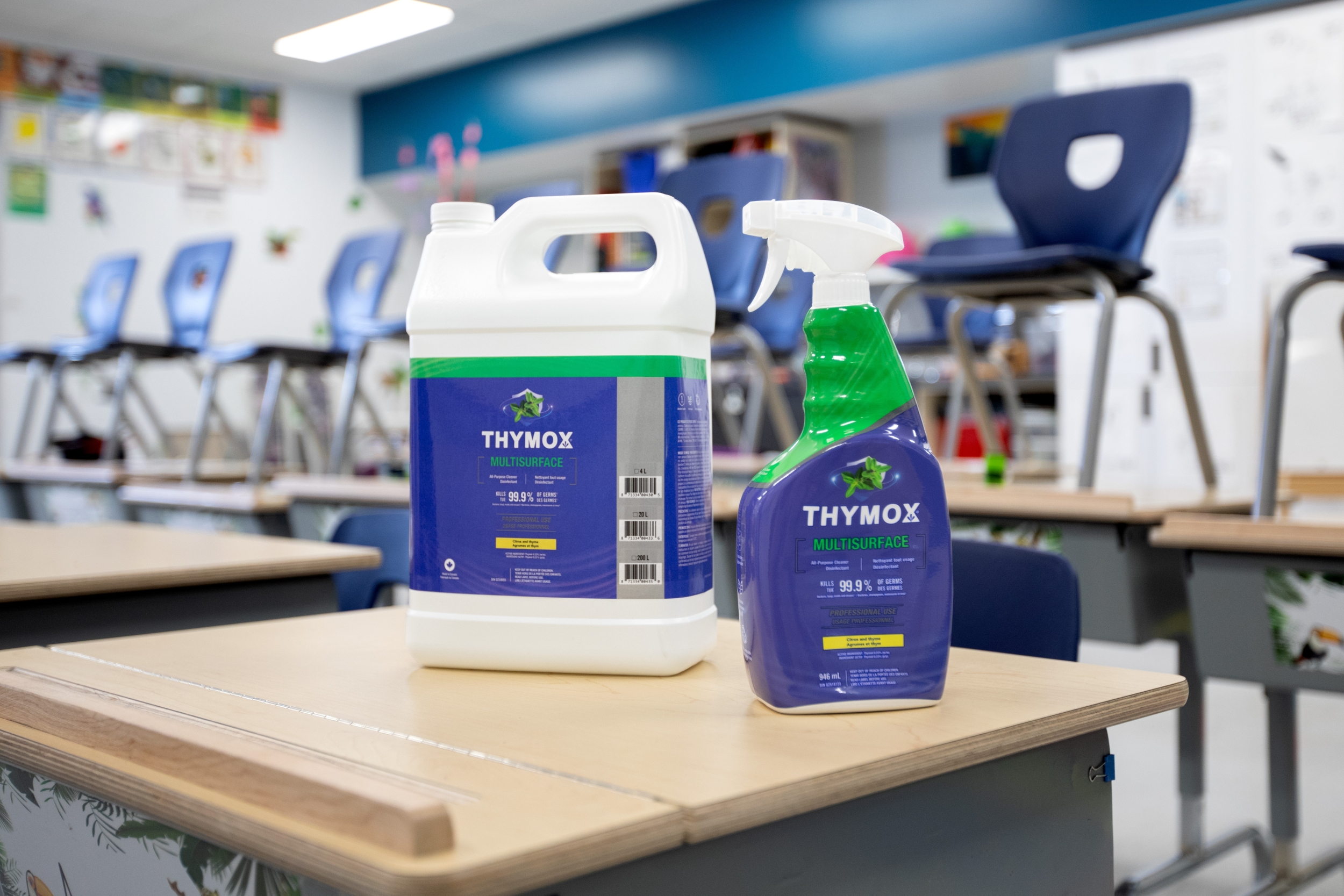 Did you know that a child touches and retouches more than 300 surfaces in 30 minutes?1 Before the return in educational and childcare environment, it can therefore be very useful to revise hygiene standards and measures, both in maintenance and cleaning and in disinfection.
As you know, the maintenance of several surfaces and objects must now also include disinfection. Schools, daycares and various public places must have high standards in this regard. It is essential to clean and disinfect the surfaces and objects in them.
Just as it can also be helpful to deodorize these highly impregnated spaces!
Thymox: strength of nature and complete healthiness
To help you achieve this in your facilities, we offer highly efficient, reliable and non-toxic solutions. Thymox technology products, including Thymox MultiSurface, are professional-grade, easy to use and fast-acting. They have formidable abilities to clean, sanitize, deodorize and even disinfect objects and surfaces. The active ingredient extracted from thyme acts effectively on various pathogens and microbes, including the virus causing COVID-19.
And most importantly, our Thymox products offer you a powerful natural alternative that is non-toxic, even without rinsing. In schools and daycares, this feature is particularly interesting. The work of cleaning and disinfection does not cause any problems for your employees or the young people who frequent these places.
Aim for high-performance maintenance for schools and daycares
Here are some ideas for proper cleaning and disinfection. By using Thymox MultiSurface, which is more versatile than other disinfectant products, you meet the safety requirements for schools and daycares.
1- Identify frequently touched surfaces and high-risk areas
As you know, schools and daycares are filled with " hot zones" that contain their share of pathogens. We suggest that you include the following on your list, in addition to those that may be specific to your establishments:
Water fountains
Computer keyboards and mouses
Door handles and switches
Locker rooms
Toilet
Cafeteria trays and microwaves
Nursing Office
Refrigerator in the teachers' room
(there could be surprises!)
2- Disinfect these areas daily to reduce the risk of spreading germs
Disinfecting high-risk areas in schools and daycares should be included in your daily maintenance routine. And to get there, this must be done on certain parameters, in a certain order.
As you know, to carry out effective disinfection, itis necessary to clean first. To fully understand the distinctions and particularities of these steps, we propose this article: https://thymox.com/news/disinfecting-are-using-the-right-product/
First step: cleaning
Cleaning is a fundamental but incomplete step. Cleaning involves removing visible dirt and contaminants. Surfaces and objects then have an appearance of cleanliness. Remember, however, that cleaning does not kill pathogens. It limits the number a little and prevents them from spreading too much.
And of course, cleaning prepares the areas to receive disinfection.
Second step: disinfection
Once surfaces and objects are cleaned, they are ready for effective disinfection. Disinfection aims to kill dangerous pathogens that can spread and contaminate people, large and small. These  pathogens include noroviruses (gastroenteritis), SARM and Influenza A virus (influenza).
Thymox MultiSurface: the non-toxic professional power
Schools and daycares include areas that need to be cleaned and disinfected daily to ensure the safety and health of people. The Thymox MultiSurface, as well as the complete Thymox range, brings you all the power required without toxic effects, unlike disinfection chemicals.
In addition to cleaning, sanitizing and deodorizing, our products are broad-spectrum disinfectants that eliminate 99.99% of harmful pathogens. This can lighten your task, without compromising your efficiency.
Discover the full range of Thymox products by visiting  thymox.com.
1 . Alliance for Consumer Education. Cleaning Definitions – Disease Prevention | Alliance for Consumer Education https://www.consumered.org/programs/health-wellbeing/cleaning-definitions (accessed Feb 14, 2019)
Back to news